Boat Charter Komodo were the first in our region to offer online booking to our clients, and we continue to improve on this, ensuring that our booking and feedback systems are unrivalled in the industry. All quotation and booking requests are answered promptly and accurately. Our experienced reservations staff have a clear understanding of each client's individual needs and are capable of providing unique, tailor-made proposals.
Boat Charter Komodo is a local Tour Operator under branded "Komodo Trans Wisata" to providing boat chartering in Labuan Bajo and others destination for you who are spending holiday in Indonesia for surrounding areas, either for diving, leisure, cruise, or liveaboard, etc. Boat Charter Komodo operate any kind of boat size which is specializing in Charter services for Leisure Cruises and Liveaboard Dive Cruise to Indonesia.
Boat Charter Komodo is a specialized company that provides Boat Charter in Indonesia. We has extensive and strong connectivity throughout Indonesia, so as to facilitate us in delivering many Boat Charter options that meet your need directly. We provide you with the most complete and accurate information and solutions to satisfy your holiday plans during your time in Indonesia.

The majority of our boats are for leisure cruise charter; however, we can also arrange for diving activities during the cruises. For this purpose, we also provide diving equipment that is accordance to the safety standards. For island hopping, we offer the best snorkeling locations with the best white sand beaches in the Komodo Island region.
Platform Boat charter Komodo was established in 2014 in Labuan Bajo under branded Komodo Trans Wisata and has gained years of experience in managing holidays in Komodo Island, Flores and Bali since then. We want to help our traveler to discover the amazing culture, history, wildlife and the beautiful landscape that Indonesia has to offer in it's most simple and original way. Every traveler has different expectations. We make sure that all our quotation is highly personalized.
OUR TEAM
Boat charter Komodo team is mainly composed of Indonesians staff occupying many key positions such as CEO, Sales/Marketing,  accounting,  reservation, guide and production.
Eddy Harianto
Leviana
---
OUR GUIDES
Our guide have best experiences and knowledge on tourism industry. Which assure you the best service during your holiday or trips. We serve you wholeheartedly and can contact us anytime.
Yoseph
Bonifasius
Alfonso
Heribertus
Yones
Elsa Farida
Agutinus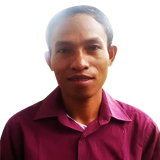 Alfonsius
---
OUR DRIVER
Philipus
Safri
---